Business in today's economy is a rat race. Local businesses have an uphill battle against the bulldogs like Amazon and eBay who continue to see their sales rise year-over-year, and local big box stores like Home Depot and Walmart continue to leverage their large advertising dollars and infrastructure to compete with those online retailers. From a consumer standpoint, everyone wants to support local the best way they know how, but the reality is, it's readily available information that is the end all, be all. Meaning messaging and advertising in the right place at the right time is forming consumer buying behaviors and purchasing decisions, driving local dollars away from local businesses and into the hands of the bulldogs.
Knowing where to spend your advertising dollars in today's market is very overwhelming. There are so many ways to reach your audience, but what matters most is which medium is going to give you the best return on your investment. Without a doubt, the two most common things we hear are 'we just do social media', and 'all of my business comes from word of mouth'. Yes, these two things are very important, but one of the mediums you do not want to cut corners on is a Google My Business listing (GMB) and its posting strategy, Google Posts, for local businesses.
Google relies on keywords to push the most relevant results to users, but lately, Google has been focusing its efforts on user intent and satisfaction. The search engine understands the type of content that feeds users' needs, which is why it holds its position as the most reliable, and reputable search engine on the planet.
Knowing that Google pushes their own products to the top of Search Results and rewards this highly relevant content should be enough for you to start posting consistent content on your GMB listing. Unlike other social platforms which are typically geared towards certain industries, Google posts are for all types of businesses and industries with many different intents (i.e., to share your specials, start talking about new product offerings, and to let people know about your upcoming events.).
By creating a Google My Business listing, your business information will show up in Google Maps, Search and other properties. When users are searching for businesses and places near their location, or directly by business name your business will appear.
It's important that your GMB listing has the following:
Complete data. It's easier for Google to match the right results to searches when your business's address, phone number, and category are accurate.
Verified location(s). Google needs a verified location to have you appear in map and search results. Businesses with multiple locations need to verify each location and therefore each location needs a GMB listing.
Hours of operations. Keeping your hours of operation updated including holidays and special event. Potential customers want to know that you are open if they are traveling to your location.
Actively managed reviews. Interacting with your customers on both positive and negative reviews shows that you value your customers and their feedback. It also increases the likelihood of potential customers and improves visibility.
Photos. Photos add to your businesses personality and is an opportunity to show your customers your storefront, product/service offerings, and team members, making it easier for them to make a buying decision.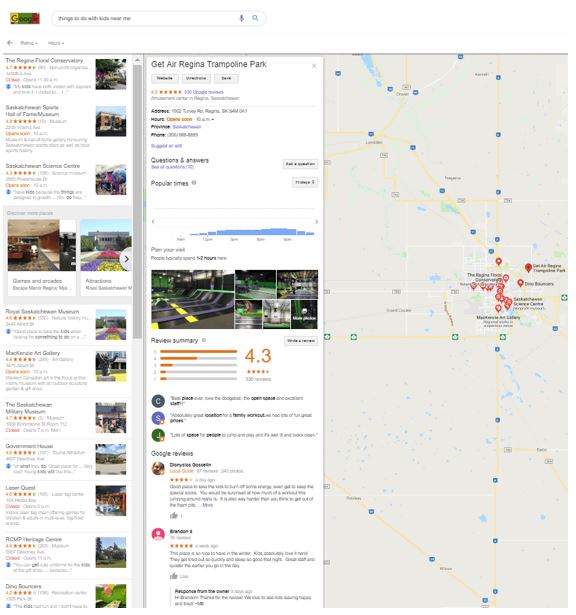 As mentioned previously, Google has deployed a posting strategy – Google Posting. Chances are your local competitors are already doing it, and your local buyers are already using it, so you need to too. Google posts enhance your GMB listing and give your customers access to your businesses information so that they can make better decisions as they browse.

Investing in a Google posting strategy offers 4 main benefits:
Promotion of your events, offers/specials, product updates, and announcements
Appeal to your customers with engaging photos and videos
Improved customer experience through timely information
Direct communication from you to your local customers
The examples below showcase how these types of posts can be used. As a recap, these posts work well for 'what's new' posts, event posts, offer posts, and product posts with many different calls to action.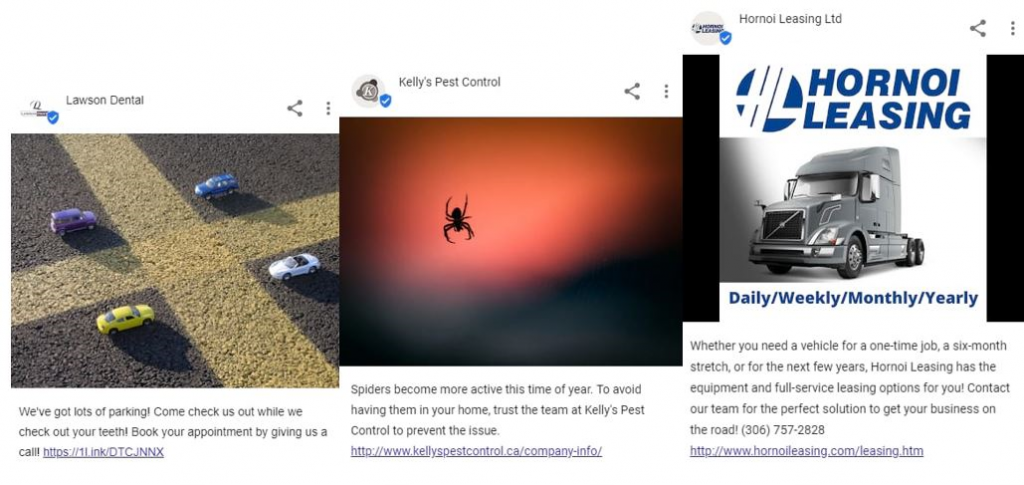 Four out of five consumers use search engines to find local information, and Google has a 92.5% market share in Canada. So, utilizing your Google Knowledge Panel as a mechanism to share content is a sure way to get more eyes on your business and is an off-site SEO tactic that will benefit your ranking online. It can be used to dominate in your local market when paired with other social channels, review and reputation management, and your website.
If GMB's sound like a mythical creature to you, or you're familiar but you just don't have the time to make sure your content is kept fresh and up to date, you're not alone, and we're here to help! For more information on our Google products, visit the Digital Marketing Services section of our website, or give our experts a call in Saskatoon or Regina!
Note: This article references Directwest's Google Premium product that has now been discontinued.