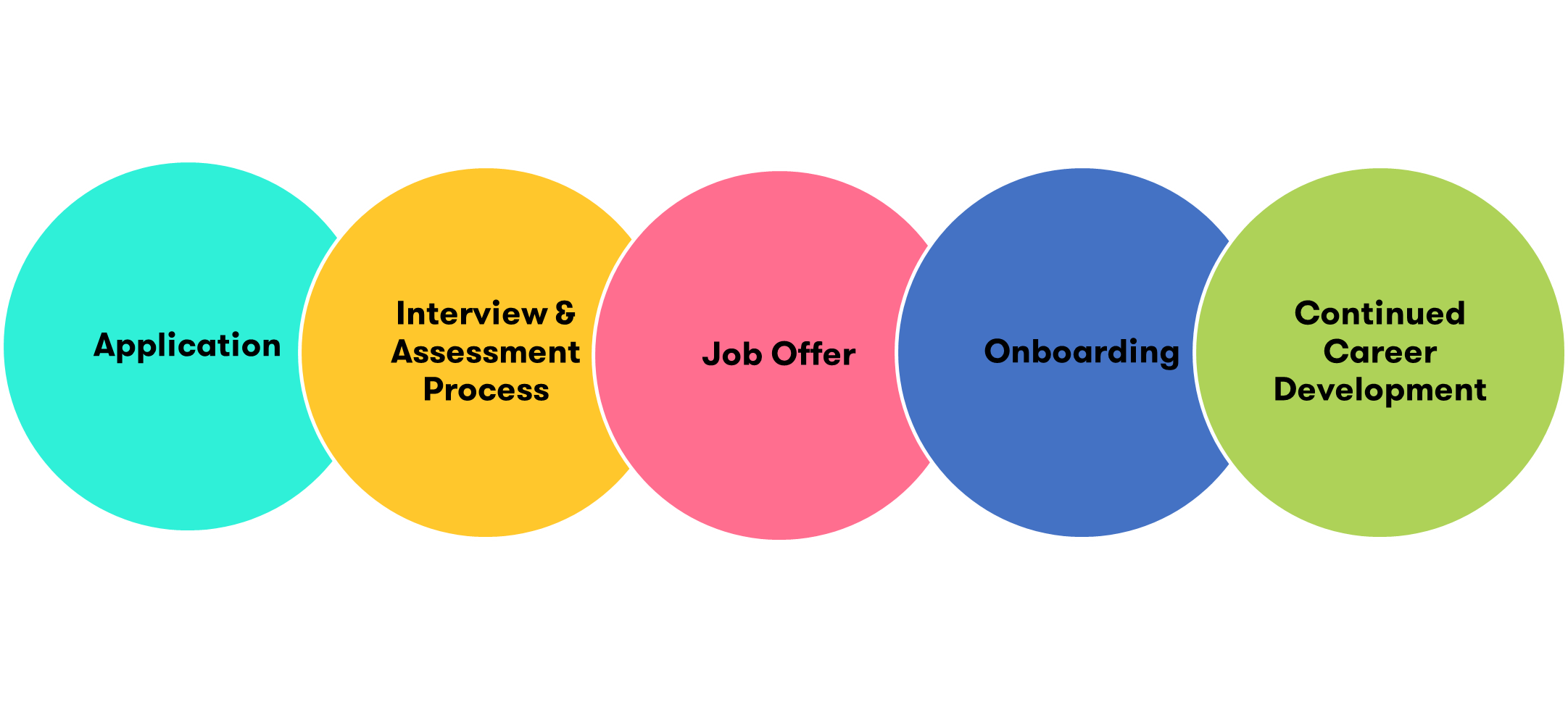 We take pride in our recruitment process!  We ensure that not only are you the right fit for us, but that we're the right fit for you. With a wide variety of positions to offer, we utilize personality assessments, assignments and position related questions to understand your goals, background and talents and provide you with opportunities for learning and growth.  Through our recruitment process you'll gain exposure to an in-depth overview of the position and how it fits within our organization.
Our Application Process
When applying, please submit a resume and cover letter via email careers@directwest.com.  Ensure to indicate the position you're applying for.
Our Interview & Assessment Process
If you're selected for an interview, you'll hear from a member of our Recruitment Department.  Our interviews are behavioral based, and we'll be looking for specific examples on how you handled previous situations.
Interviews consist of first and second round interviews, personality assessments & presentations/assignments.  The presentations/assignments are designed to help you understand the position you're applying for and give you the opportunity to "try" the position to make sure it's the right fit.
Currently our first interview is conducted virtually through Microsoft Teams.  If you proceed to the second interview, the interview will be in person at our head office. 
The Job Offer
All candidates who are interviewed will be contacted with a decision.  Usually, within two-three weeks.  If you're the selected candidate, we'll work with you on a start date and onboarding items.
Our Onboarding Process
As a new employee, you'll go through our six month onboarding process consisting of:
Internal Training Modules (processes, products, sales training etc.)
Meet & Greet with our Executive Members
Swag Bags
Mentorship
Onboarding Surveys at three & six months
Continued Career Development
At Directwest we're all about growth!  Our employees are the most valuable asset to our organization and the continued investment in our employees is essential in moving our business forward.
After one year of employment, you'll be eligible to participate in our Career Development Program that will assist in helping shape your career future.  We also provide semi-annual performance appraisals, tuition reimbursement and a Learning Management System.
Employee Testimonials
Meet a few of our employees who value their experience working at Directwest.
Ashley Raddysh
Human Resources Manager
"I began my career with Directwest in 2013 and have held many different positions. I am now the Human Resources Manager. I love my job and I am so fortunate to be a part of an organization that enhances and supports my career goals."
Xiaofei Deng
Search Engineer
"I started my career in Information Retrieval in 2017.  Directwest has allowed me to gain experience in designing and improving search engines as well as refining my communication and co-working skills. As a young IT professional, I feel lucky to work at Directwest."
Gord Popadynec
Media Advisor
"I thoroughly enjoy my career at Directwest. Everyday brings new conversations and the fast-paced environment challenges me to stay on top of how businesses are being searched in Saskatchewan. The past twenty plus years have flown by, looking forward to the changes in the years to come."
There are currently no vacancies.
If there are no positions available in your area of interest, please send your resume and cover letter to be considered for future opportunities.
Human Resources
Attn: Michelle Chittenden
Directwest
355 Longman Crescent
Regina, SK
S4N 6G3